Good morning, and welcome to our rolling coverage of the world economy, the financial markets, the eurozone and business.
EU car sales rose 10% in June, and were up 25% in the first half compared with the same period in 2020, according to the European Automobile Manufacturers' Association (ACEA). Sales reached almost 5.4m vehicles – still 1.5m units below the pre-Covid volume recorded over the first six months of 2019.
Germany posted the biggest gain with a 24.5% increase, followed by Spain (+17%) and Italy (+12.6%). In France, by contrast, passenger car sales fell 14.7% in June.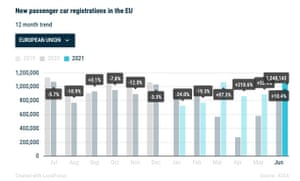 The Bank of Japan has kept monetary policy unchanged but downgraded its growth forecast to 3.8% for the current fiscal year to March 2022, from 4% estimated in April. It stuck to its view that the world's third-biggest economy is headed for a moderate recovery, and raised its growth forecast for next year to 2.7% from 2.4%.
The BOJ also revised its consumer inflation forecast higher, to 0.6% from 0.1% this year, on the back of rises in energy costs and commodities prices.
Today, nickel prices climbed to a near-five-month high, tracking gains in stainless steel. Nickel is used in electric vehicle batteries, and to make stainless steel. Three-month nickel on the London Metal Exchange rose as much as 2.3% to $19,205.
The central bank also announced a climate scheme, which will offer long-term loans at zero interest to banks that extend green and sustainability-linked loans and invest in green bonds and sustainability-linked bonds. It also said it would start buying green bonds using its foreign reserves.
The BOJ said in its quarterly report:



Japan's economy is likely to improve… as the pandemic's impact gradually subsides due to progress in vaccinations.

But the outlook is highly uncertain as domestic and overseas economies could be swayed by developments regarding the pandemic.
A resurgence in Covid infections forced the Japanese government to impose a new state of emergency in Tokyo, less than a fortnight before the Olympic Games, dashing any hopes of a strong rebound in economic growth this quarter.
Burberry, the British fashion brand known for its trenchcoats and check scarves, has reported stronger-than-expected sales. Comparable sales surged 90% to £479m in the 13 weeks to end June from a year earlier, when shops were closed, and were up 1% compared with 2019 levels.
Within this, full-price sales growth picked up to 26%, as the company abandoned markdowns. Burberry recently opened its first flagship with its new global design concept in Sloane Street in London, with three more flagships to follow over the next year.
Marc Gobbetti, the chief executive who is leaving by the end of the year to return to Italy, said:



We saw strong growth across our strategic categories, in particular leather goods and outerwear, and exited markdowns in digital and mainline stores. We continued to roll out our new store concept that will transform how customers experience our brand and product in a uniquely British luxury setting.
Asian stock markets were mixed after a tough day on the markets in Europe and Wall Street yesterday. Japan's Nikkei lost nearly 1% while Hong Kong's Hang Seng rose almost 0.3% and the Australian market was flat. Europe is expected to open slightly higher this morning.
The Agenda
9am BST: Italy trade for May
9am BST: Spain trade for May
10am BST: Eurozone inflation for June (forecast core inflation: 0.9%)
1.30pm BST: US Retail sales for June (forecast: 0.4%)
3pm BST: US Michigan Consumer sentiment for July (forecast: 86.5)