Good morning, and welcome to our rolling coverage of the world economy, the financial markets, the eurozone and business.
Inflation across the UK has risen to its highest level in almost three years, as the cost of fuel, food, secondhand cars, clothing and footwear rose.
The Consumer Prices Index jumped to 2.5% in June, up from 2.1% in May, the highest inflation reading since August 2018, the Office for National Statistics reports.
This sharp move is higher than expected, taking inflation further over the Bank of England's target of 2%, as the cost of living picks up as pandemic restrictions are lifted.
In June alone, the CPI rose by 0.5%.
The Office for National Statistics reports that transport costs pushed inflation up, with petrol prices much higher than in June 2020, when the UK was emerging from its first lockdown:
Motor fuel prices have jumped by over 20% over the last year, it says, the largest rate since May 2010.



Average petrol prices stood at 129.7 pence per litre in June 2021, compared with 106.5 pence per litre a year earlier. The June 2021 price is the highest recorded since October 2018.

In comparison, the UK was in the first national lockdown at this point last year and petrol prices were affected by reduced demand, reaching their lowest price in May 2020 for over four years
The ONS also adds that prices for food, second-hand cars, clothing and footwear, and eating and drinking out also rose in 2021 but mostly fell in 2020, pushing inflation up.
These were partially offset by a large downward contribution from games, toys and hobbies, where prices fell this year but rose a year ago.
As this chart shows, the causes of the increase in inflation in June were widespread: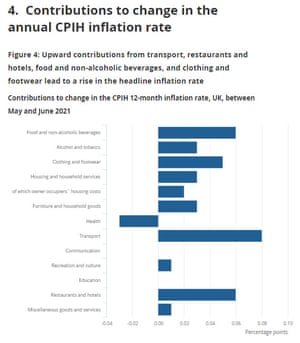 This rise will intensify the debate about whether rising prices is transitory, as central bankers argue, or becoming stickier – meaning some of the stimulus measures brought in to support economies should be rolled back
It's a wider issue too. Yesterday, the US consumer prices index jumped to a 13-year high of 5.4% year-on-year, higher than expected, partly due to a surge in used car prices.
More detail and reaction to follow…
The agenda
7am BST: UK inflation data for June
9.30am BST: UK house price index for May
10am BST: Eurozone industrial production
1.30pm BST: US producer prices index
3.30pm BST: US weekly oil inventories