It was a classic case of turning a setback into an opportunity. Helen White and Michael Jones co-founded the lighting company houseof after they were both made redundant from their jobs.
"We decided to take our careers into our own hands," says White. "We noticed a gap in the market for cool, modern lighting that was accessible to consumers. We wanted to help consumers understand lighting – and we wanted lighting to be exciting."
The pair were former colleagues at a major high street retailer – White had been a buyer for lighting and Jones had worked in website design and consumer experience. The pair set to work in July 2018 to make their vision a reality. Nine months later, houseof was launched.
"We've got our bright pop colour palettes and our lighting is simplistic in design but beautifully made," says White of the brand's aesthetic. The collection is a wonderland of soft pink and charcoal grey mixed with coral, olive green and blue, and features plenty of glass, brass, marble and metal among its outdoor and indoor lighting options. While the individual designs vary, all offer a modern take on a classic mid-century look that would work in homes from many eras.
A strong commitment to the environment is central to houseof, too. "We would love to get to carbon neutral as a business," says White. "We did an audit of all our production emissions with a partner organisation, so we can understand where the emissions are coming from – and which products are the worst offenders."
Following this, White and Jones began carbon offsetting the emissions of the whole product range. They also offset all employee emissions and support customers to do the same. "In the item specifications, we clearly display its production emissions alongside usage emissions," says White. "Then, at checkout, we give the option to offset the usage of light for 10 years," says White.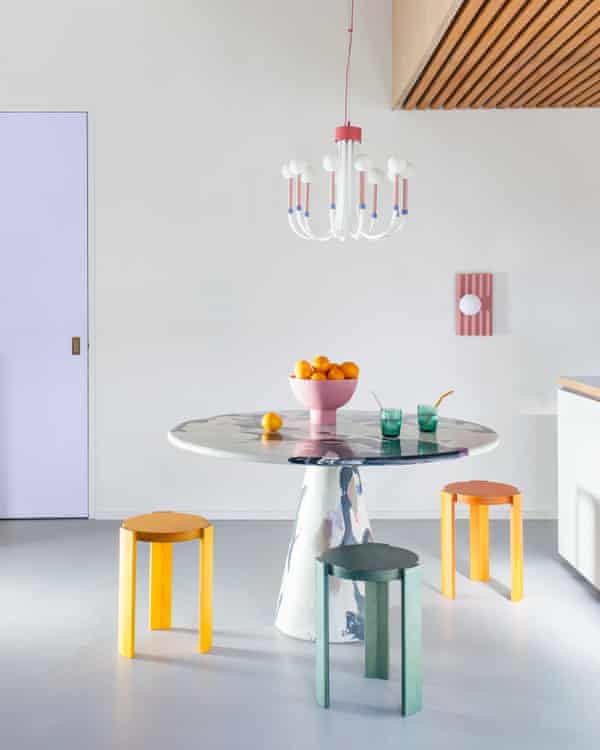 While White and Jones thought about the future of the planet when they launched houseof, what they couldn't have foreseen was the global pandemic that would arrive a year later. The impact of Covid-19 on the business has been mixed. "We've been lucky in terms of not having to shut down," says White. "There was a drop in business when building sites closed down and interior designers weren't able to work on projects, but with people spending more time at home and wanting a nicer environment to live in, demand has still been increasing."
However, being able to meet this demand has proved difficult. The entrepreneurs were hit by logistical delays – a problem that continues. "Getting hold of materials has been a challenge," says White.
Fortunately, being a startup has worked to the brand's advantage. "Because we're a small company, we can be dynamic and change really quickly," she says. "You can pivot and that's been our strength." For example, as soon as the product delays started, the company switched to pre-orders so customers could reserve their stock. "It helps in terms of cash paid to the business, but it also helps the customer know their order is on its way."
Securing cashflow is vital if your business relies on buying stock, as houseof does. "When you're growing, you need more investment to buy stock," says White. "Stock is the biggest outlay for our company. We need things to sell."
From the start, White and Jones have used PayPal Working Capital as a source of funds. "It's all based on how much of our sales come through PayPal and how much the business can afford to pay," says White.
The flexibility of PayPal Working Capital particularly suits the seasonal ebbs and flows houseof experiences. "The payments fluctuate as your sales fluctuate, so if you're having a quiet month, your payment to Working Capital goes down as well.
"It's great for us as, in the autumn, we have a bumper few months because it's getting darker and people start to look for lighting, whereas summer is quieter. It means we don't have a massive monthly payment hanging over us."
White and Jones believe that PayPal will continue to be a valued service as houseof develops. "Our next challenge is tackling how to reduce the impact of our worst offenders in terms of carbon emissions," says White. "For example, we have a concrete table lamp, which is one of our bestsellers, but we're looking to take out the range completely because concrete is a really bad pollutant – and we're looking to use a company in the UK to 3D print the lamp instead. "We're also working on new materials such as bioresin to reduce our emissions, so we don't have to offset in the future."
And that isn't the only plan. "We're looking to expand globally next year," says White. "PayPal will certainly come with us on that journey. Once our PayPal Working Capital advance is paid, we're going to look to resource a new one as we always need more investment to help us grow." She highlights the simplicity and speed of PayPal's Working Capital product. "Once you've applied and been accepted, you get the money in your PayPal account the same day.
"I think it will always be part of houseof. It's amazing that we have these opportunities and that somebody else is willing to support our business."
PayPal's broader digital capabilities offer solutions to the modern-day entrepreneur to help build resilience today and into the future. For more information and guidance on PayPal's available products to suit your small business needs, click here
This article describes the experience of one small business. This content is provided for informational purposes. You should always do your own research and obtain independent advice before making any business decisions.